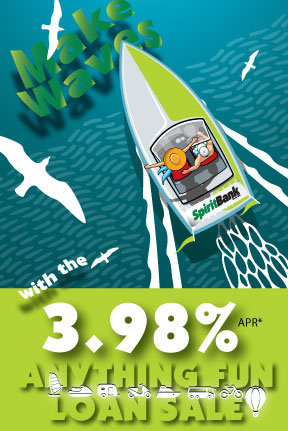 Make waves with our 3.98% APR* Anything Fun Loan Sale!
Includes boats, RVs, jet skis, motorcycles, yachts, luxury RVs, 4-wheelers, trailers.
Apply online, visit any branch location or call us at 918-712-9292.
*Annual Percentage Rate (APR) accurate as of 01/30/2018. Rates and terms are subject to change without notice. 72 month term (longer terms for larger boats). Example: A 72 month loan for $30,000 based on an interest rate of 3.88% and loan fees of $105 with a total finance charge of $3,783.20 would have 72 monthly payments of $469.35 each at an Annual Percentage Rate (APR) of 3.98%. Subject to credit approval. Open to Oklahoma residents only.